The exotic peacock mirror is a piece that I've been coveting for some time now. As if the scale of the mirror wasn't statement enough, it is covered in rows of inlaid mirrors against a beautiful antique gold finish.
And I've experienced firsthand just how beautiful the detail of this mirror truly is. How gorgeous does it look hanging over Christin's mirrored console?!
The mirror is no doubt a stunning statment piece for your walls, but as statement pieces usually go, it comes at a large price and can carry a pretty hefty shipping charge to boot!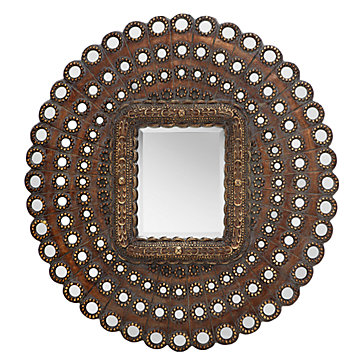 This Z Gallerie mirror is smaller in scale but gives you the exact same look for a quarter of the price!
And if what you're really after is some exotic flair for your home, look no further! Check out the mirror in the background of this image of Carrie and Aiden from Sex and the City 2...hanging in the Abu Dhabi souk!